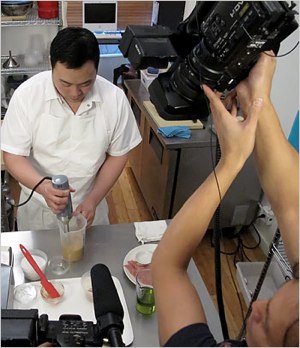 "Can't get enough of the Momofuku chef, David Chang? Soon you'll be able to carry him around with you. In late April, he plans to release Lucky Peach, a quarterly iPad app and print journal. Each issue will examine a dish or ingredient through many facets. For instance, the first app will present an interactive bowl of ramen from his Momofuku Noodle Bar. Clicking the ingredients in the image will reveal about 35 videos, 50 recipes, graphics and other elements."
So far fantastic. This will appeal to many; really foreshadowing the direction media (print especially) is going. But this next quote is very exciting:
"Mr. Chang said that he had talked to television networks about doing a program, but that this offered more freedom and more possibilities, as well as providing research and development for his restaurants. "We were able to go a little deeper than we could have on TV, without being constrained by the networks," he said. "They wanted yelling. They wanted everything but education."
More freedom and more possibilities–no longer the providence of television!